Bora Bora Yacht Club: Picturesque Scene & Fresh Cuisine
Ahh the Bora Bora Yacht Club Restaurant, full of tasty dining options and gorgeous water views! We briefly mentioned this lovely ocean side dining spot last month in our article on top experiences not to miss while in Bora Bora. Now we?d like to elaborate more on this amazing spot for lunch, cocktails, and dinner.
The Bora Bora Yacht Club Restaurant is located on Bora Bora a few minutes away from Vaitape serving up some of the freshest island fare. And we really mean fresh. The seafood is pulled straight from fishing boats that dock along the club's wharf! It?s also open to anyone to visit, not just members.
Guests can dine lagoon side, in tropical Bora Bora paradise while taking in the water views, watching fish jump around by the dock and gazing at boats or looking up to the stars at night and taking in the ocean breeze.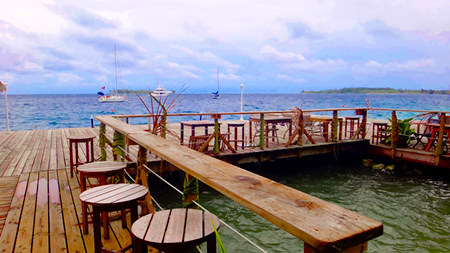 Photo courtesy of Bora Bora Island Guide
For lunch, you may be in for a vibrant scene of vacationers on their yachts or you may experience an intimate and relaxed setting. It all depends on who is in town! In the evenings after meals, you can also expect great music and dancing.
For sunset, we certainly think this place is one of the best on the island for the beautiful colors and water view. Have a freshly made cocktail and start your night at the bar before the romantic dinner begins.
Photo courtesy of Bora Bora Island Guide
You can expect delicious, fresh Polynesian and French fare at this yacht club restaurant. Some popular dishes include mahi mahi, tuna tartare, tuna carpaccio, a trio of Tahitian fish, and risotto.
If you plan to spend the day, check out the swimming! There?s even an area for children to get up close to the rays. The pool and bar area can be used by anyone and is also free.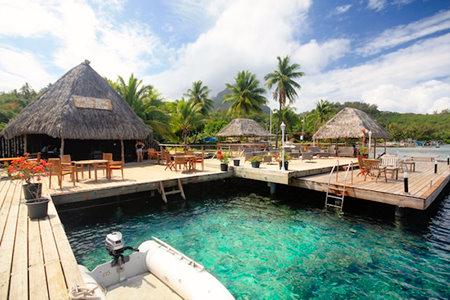 Bora Bora Yacht Club
The coolest thing about hanging out at the pool bar during the day is the friendly locals and foreigners you?ll run into. You?ll get to see such a diverse crowd here, making your stay quite memorable in Bora Bora.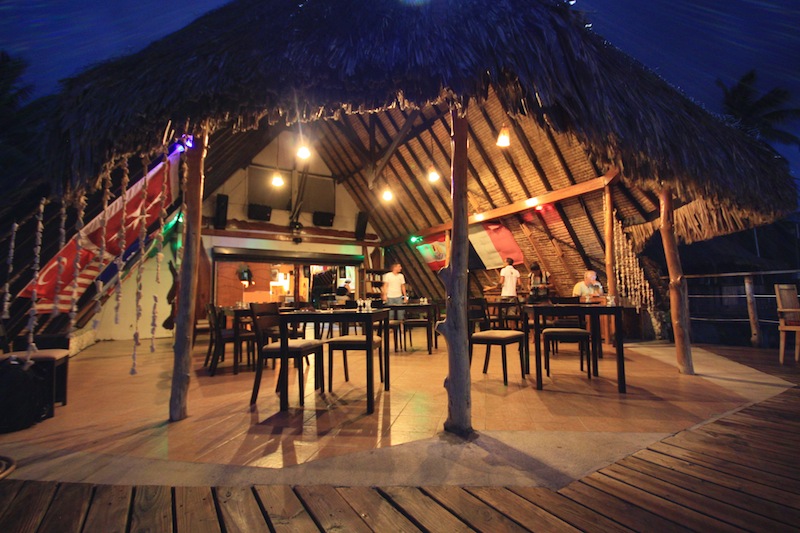 Photo courtesy of Bora Bora Island Guide